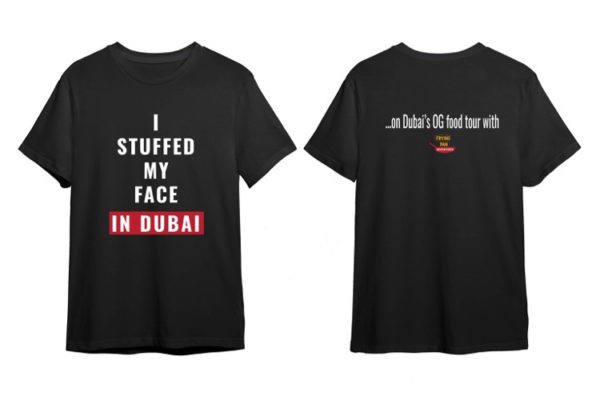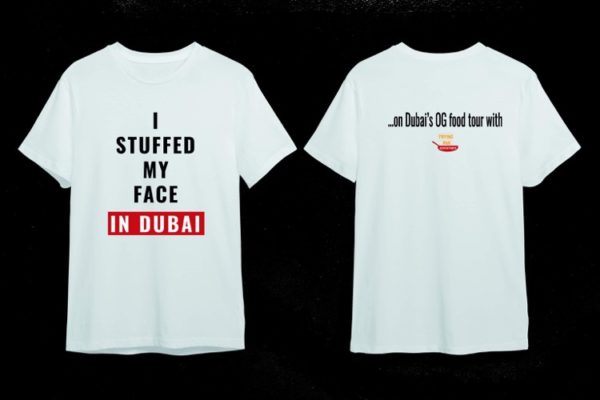 Grab a comfy eye-catching cotton tee as the perfect (and travel-friendly) Dubai souvenir!
Grab one or more of our comfy lightweight cotton tees in either black or white.
100% cotton, 190 GSM, OEKO-TEX® certified.
Available in unisex sizes from XS to XL. Check our size guide before placing your order.
Available for delivery within Dubai (delivery charge applies based on the location) or place an order while booking your tour, and we'll give it to you on the tour itself!
High quality printing (it's not a sticker!) which is machine washable. We recommend using a cold wash, low spin cycle and turning the shirt inside out to preserve the print for a longer time.
Size
Length
Chest
Sleeve Length
XS
64CM / 25"
47CM / 18.5"
17CM / 6.7"
S
68CM / 26.8"
48CM / 18.9"
17.5CM / 6.9"
M
69CM / 27"
50CM / 19.7"
20CM / 7.9"
L
71CM / 28"
52CM / 20.5"
21CM / 8.3"
XL
74CM / 29"
53CM / 20.9"
21CM / 8.2"
XXL
78CM / 30.7"
56CM / 22"
22CM / 8.7"
XXXL
81CM / 31.9"
62CM / 24.4"
24.5CM / 9.6"
100% cotton. 190 GSM. Made by an OEKO-TEX and ISO 9001-2015 certified manufacturer.
You may purchase the shirts in advance of the tour, while booking your tour tickets. We will hand over your shirt(s) to you at the start of the tour. We currently don't carry an extra stock of shirts on the tour, so please pre-purchase at the time of booking.
We are happy to deliver your t-shirt within Dubai for an additional delivery based on your location. You can determine the delivery charge based on the distance between your address and this location.
Within 10km – AED 15
Within 20km – AED 25
Above 20km – AED 35