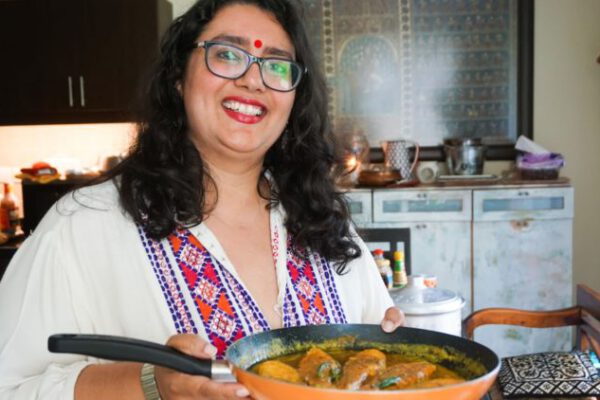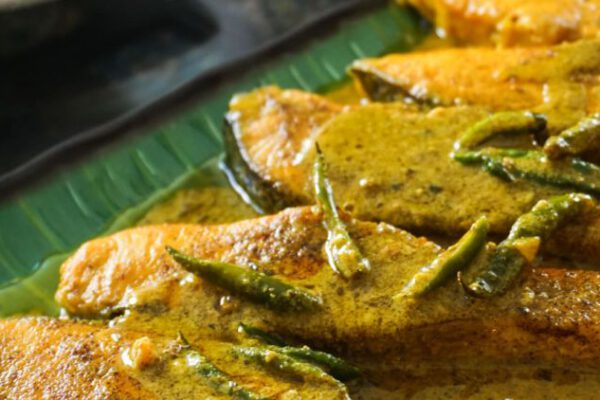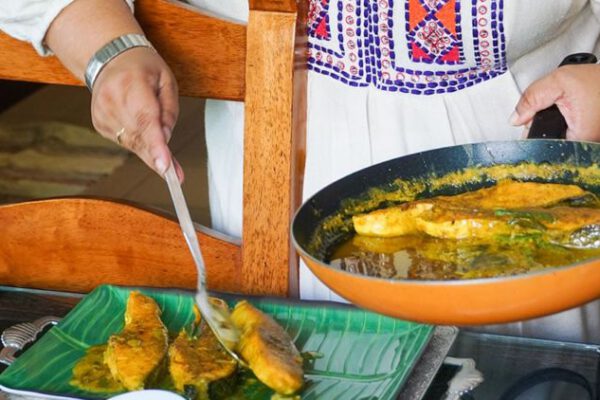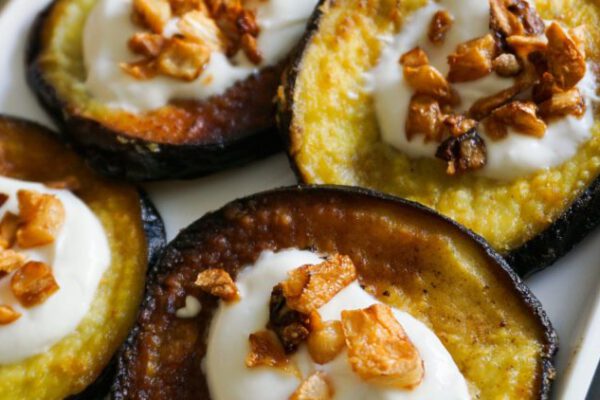 Learn secret recipes and culinary traditions from a Bengali gastronome as she whips up a festive brunch to celebrate the Durgotsav festival.
This event will run once on October 13, 2018.
11:45AM to 3:30PM.
2 Non-vegetarian dishes (1 meat, 1 seafood), the remaining menu is vegetarian, details below.
Dishes may include Gluten/Lactose/Dairy/Nuts. Please notify us of severe allergies.
The minimum age to join this experience is 14 years.
Minimum of six guests required; We may cancel and refund tickets if minimum is not met.
Dress comfortably; carry a light sweater if you feel cold in air conditioning.
Spice levels are mild to medium.
What to Expect
Learn to cook classic Bengali dishes with Ishita Saha, Kolkata-born Dubai resident and food blogger at ishitaunblogged. Ishita fed us generously during our podcast episode, Bengali Food 101 with Ishita, and has gladly extended this invitation to feast again in celebration of the Bengali festival, Durgotsav.
Watch with a hawk's eye (and offer a helping hand) as Ishita conjures up three festive dishes, possibly letting a few of her kitchen secrets out of the bag along the way. Pick her brains on Bengali culinary traditions and learn about authentic ingredients like mustard oil, the ubiquitous Bengali five-spice mix and of course Ilish.
Once the stove is turned off, enjoy a family-style lunch, heaps of lively conversation and the characteristic long, drawn-out farewell typical of any Indian celebration.
At this interactive demo you will:
Learn to cook recipes passed down to Ishita from her mother and grandmother that will transport you to Kolkata through the lesser known flavours of Indian food.
Get a glimpse into traditions around Durga Pujo, a revered festival among the Bengali community.
Discover authentic Bengali ingredients and where to hunt them down in the U.A.E.
Be as hands-on as you like! Volunteer to help prepare the family style dishes or observe and taste as the dishes are prepped.
Dishes demonstrated:
Begun bhaja – pan seared eggplant topped with yoghurt and garlic
Shorshe bata maach – steamed salmon in a creamy mustard paste
Luchi – deep fried puffed bread
Lunch Menu:
After the demonstration, retreat to the comfort of one of the Hyatt's serviced apartments and enjoy the dishes prepared for lunch, in addition to:
Khichuri – comforting rice and lentils porridge cooked with warming spices
Kumro Bhaja – sliced pumpkin fritters
Jhure Aloo Bhaja – potato strings fried till crunchy
Shukto – light mixed vegetable stew
Cholar Daal – gram lentils
Kosha Mangsho – slow cooked mutton in a thick caramelised onion gravy
Steamed Rice
Baked Yoghurt – a dessert inspired by a classic Bengali treat
Tomato Chutney and Lemonade – as a palate cleanser
Aam Panna –  refreshing raw mango drink
A special thank you to Hyatt Place Al Rigga, our community partners for hosting us.
The experience will be held at the Gallery Café in Hyatt Place Al Rigga. Valet and public parking is available. The nearest metro is Al Rigga metro station (red line).