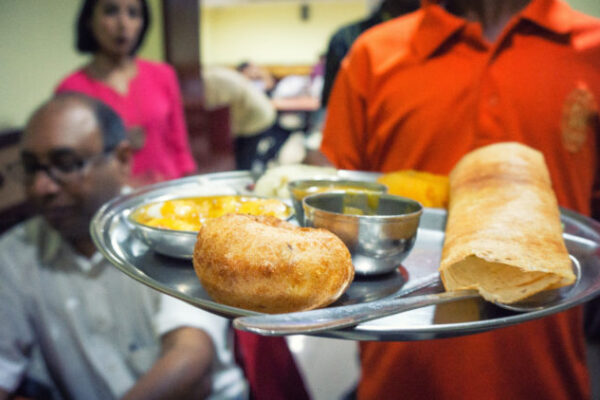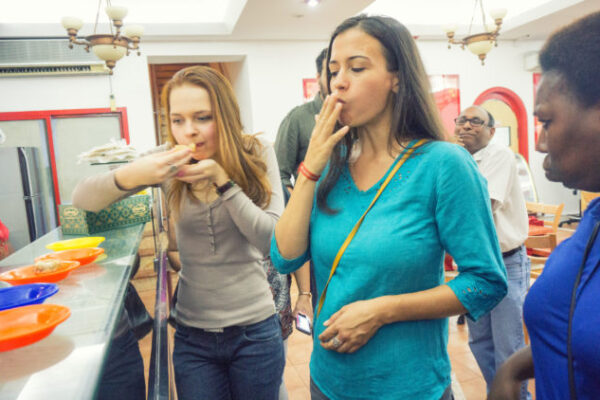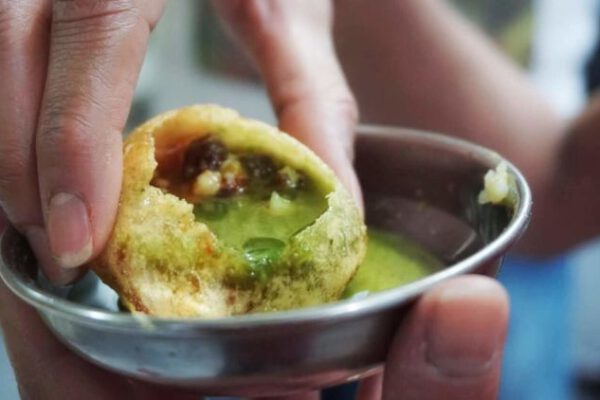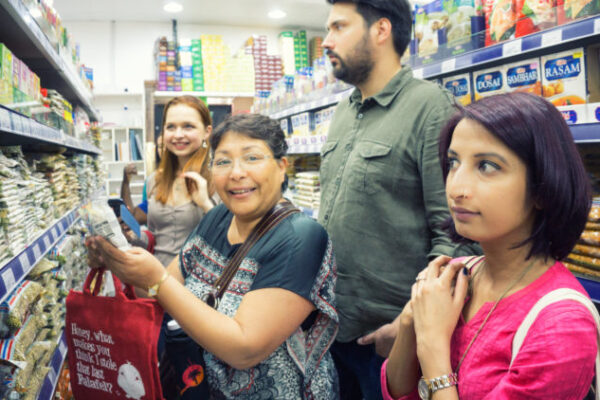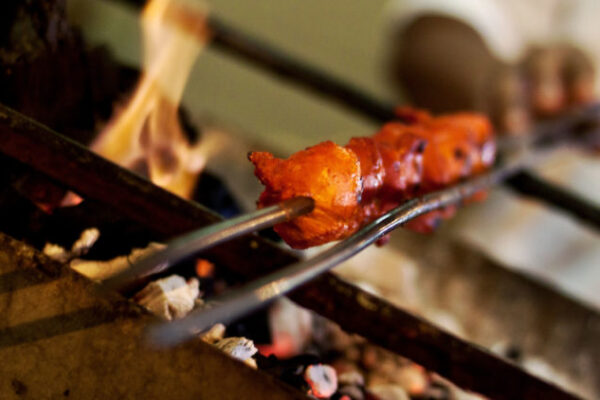 Discover what Indians really love to eat, beyond the clichéd naan and butter chicken, in Dubai's oldest, most vibrant Indian neighbourhood.
Savor a mouthwatering spectrum of traditional Indian food tastings across 5 of our favourite North and South Indian eateries in the neighbourhood.
Eat Indian food at places rarely listed in the guidebooks but heavily frequented by long-time Indian residents of the city.
Join an intimate group of 6 to 8 culture-seeking guests, many of whom are local residents seeking to uncover off-the-beaten path places.
Hear stories of the neighbourhood and Indian food customs from a resident Indian guide who grew up in the city.
Learn about the transformation of fermented rice and lentil batters into a variety of crispy, spongy or crumbly creations to dip into chutneys.
Experience the Punjabi chicken tikka that most old timers reminisce about, from a restaurant that's been lighting its coals since 1977.
Visit the Indian grocery store preferred by most Indian mothers back-in-the-day and get up to speed on "masalas," "daals" and more (optional, based on time)
Runs year-long except peak summer. Offered on selected weekday evenings.
Mostly vegetarian, except 1 chicken dish. Meat will not be missed!
Carry earphones for the audio system used by our guide.
Minimum age required is 14 years. No infants and strollers.
Walking only; distance covered is ~2.4km/1.5mi with stops in between.
Tastings include Gluten/Lactose/Dairy/Nuts. Please notify us of severe allergies.
Dress comfortably to walk.
Meet & Greet
Meet our friendly food tour guide in one of Dubai's oldest Indian neighbourhoods in Bur Dubai.
'Chaat' Counter
Visit our trusted "chaat" haunt for Three types of popular Indian street snacks: chutney-filled crisp 'puris,' puffed rice & mangoes; spiced yogurt, potato and chutney over crunchy dough spheres. (G/N/D)
Street-side Fritter Stall*
Grab the go-to fried snacks for locals in the neighbourhood: mashed potato patties fried in chickpea flour batter and crisp onion & green pea samosa with green chutney. (G)
*Excluded during May to Sept.
South Indian Restaurant
Learn how South Indians conjure up ethereal dosas, tender idlis and spongy vadas, and then dunk it all into an array of lentils and chutneys. We'll teach you how to skillfully cool your filter coffee like the locals. (G/N/D)
1970s Punjabi Restaurant
Discover unimaginably tender chicken tikka at one of the oldest Punjabi restaurants in Dubai. We'll also try a round of paneer tikka, spicy layered papadums, chana masala and Indian bread. Wash it all down with fresh-pressed sugarcane juice. (G/D/P)
Lassi Stop
Cool off with a glass of thick frothy lassi (D) made at our favourite lassi shop in the city. We'll also treat you to India's version of a spiced nutty ice cream, aka kulfi (N/D).
Allergens Key: Contains G-Gluten; D-Dairy; N-Nuts; M-Meat (Beef/Lamb); P-Poultry; F-Fish; S-Shellfish. We regret that there may not be substitutes for dishes. Even if specific dishes do not contain these ingredients, we cannot guarantee against cross-contamination of allergens in the restaurant kitchens.
All prices below include 5% VAT and all the food and water that the guide orders for the group on the tour. Soft beverages are not included.
Ticket Types:
We offer 2 ticket types. The non-refundable ticket may not be changed/refunded for any reason once booked.
On public tours, the flex ticket may be either (a) rescheduled or (b) refunded minus a 35 AED cancellation fee per ticket, anytime up to an hour before the tour commences. Within an hour of the tour start time, no changes are possible on a flex ticket.
On private tours, the flex option may be either (a) rescheduled or (b) partially refunded (70% of total price paid), anytime up to 24 hours before the tour commences. Within 24 hours of the tour start time, no changes are possible on a flex ticket.
Shared Tour:
Non-refundable option: AED 435 per person
Flex option: AED 478.50 per person
Private Tour:
For children in private tour groups:
We recommend this tour for children 14 years and above. However we do take children younger than 14 years on the tour if their parent/guardian feel they can manage through the duration of the experience.
Children 4 years and above are to be included as regular guests in the group size. Children below 4 go free.
We do offer children discounts for children between the ages of 4 and 8. This option will be provided while booking the tour online.
Diaper changing facilities are not available on the tour.
Rates per private group based on group size below (max size: 8 guests):
Non-Refundable Option:
2 guests – AED 1,722.00
3 guests – AED 2,110.50
4 guests – AED 2,373.00
5 guests – AED 2,572.50
6 guests – AED 2,614.50
7 guests – AED 2,976.50
8 guests – AED 3,402.00
Flexible Option:
2 guests – AED 1,894.20
3 guests – AED 2,321.55
4 guests – AED 2,610.30
5 guests – AED 2,829.75
6 guests – AED 2,875.95
7 guests – AED 3,274.15
8 guests – AED 3,742.20
Right outside TouchMate Quality Computers Service Center on Khalid Bin Al Waleed Street, Bur Dubai. Diagonally across from Royal Ascot Hotel. Please be on time, we don't wait for latecomers!
GPS link: https://goo.gl/maps/KazBGnGku1ERwCH5A
Given the heavy traffic, limited parking and different starting and ending locations, we strongly recommend that you take the metro rather than driving to the trail. If you plan to take a taxi, please budget extra time for traffic.
Nearest metro: Sharaf DG station (green line)
Here's What Past Guests on This Tour Are Saying
Other Tours You May Like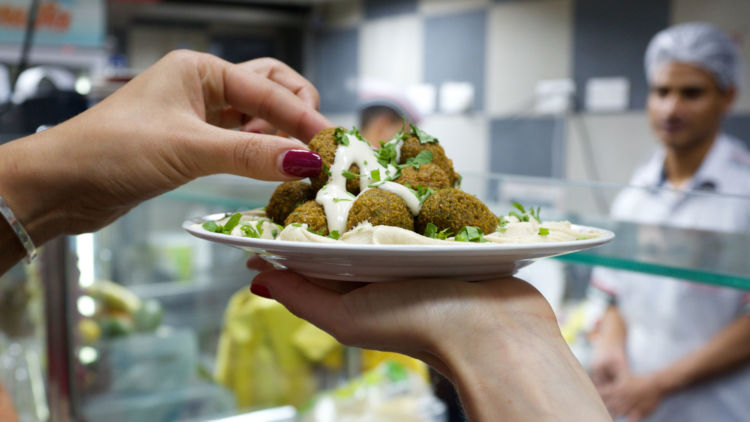 Experience the flavours and stories of our favourite Middle Eastern mezze, specialty dishes and desserts on our longest-running food tour.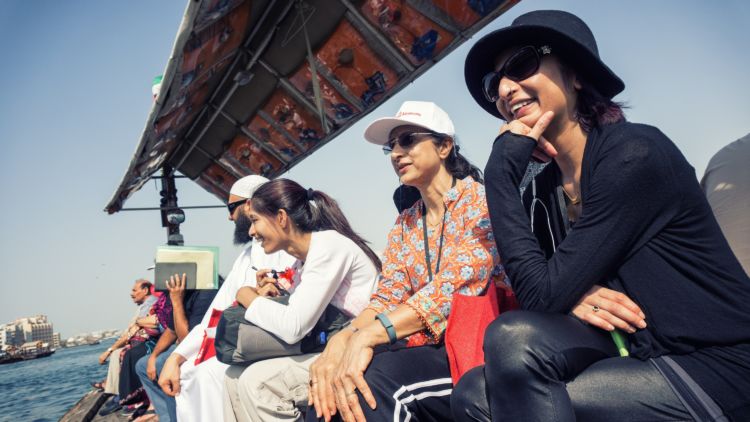 Explore Dubai's historic souks while indulging in nostalgic foods and hearing stories of the city's first communities – the perfect mix of sightseeing and food!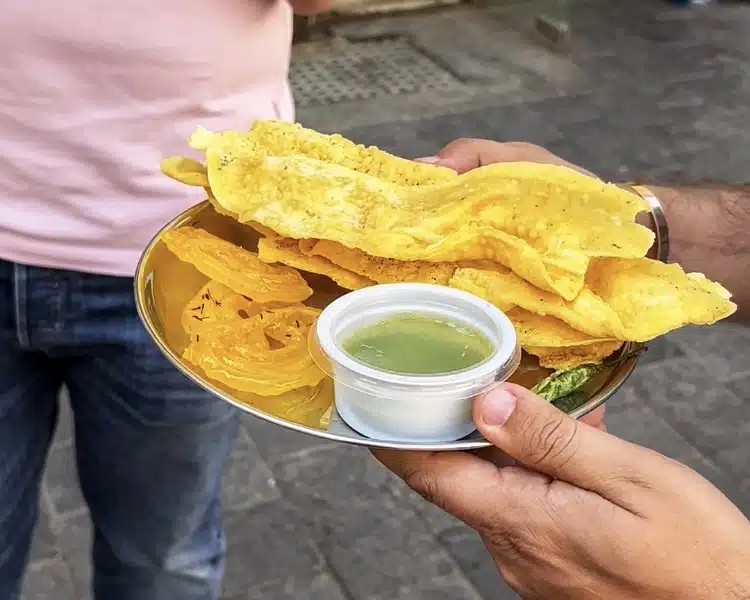 Snack your way across 5 South East Asian and Iranian stops in the back alleys of the Spice and Gold Souks in Dubai.