It's the festive season and some of us aspire to be the host(ess) with the most(est). You're underwhelmed by the quick and dirty solution of booking a table out at your favourite restaurant. And going the catering route feels a little too canned. But juggling the groceries, prep, cooking and clean up while also being the perfect, calm and welcoming host seems daunting. So here are 6 ideas for feasting with a unique spin, but with the fuss and fatigue trimmed out.
PS. We're not being paid to share these, these are just places we've tried in the past!
1. CARNISTORE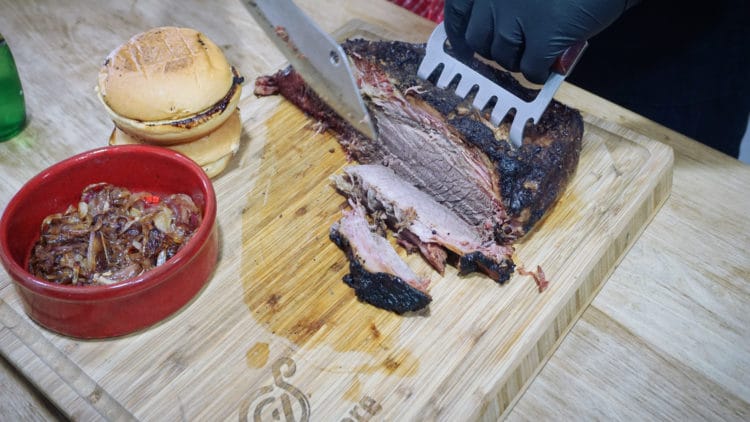 Fix and Dan are the meaty muscles behind Carnistore, a local butchery and smokehouse in Al Quoz. They can skin, debone, marinate and spice-rub your selection of raw meat so that it's ready to cook as soon as it reaches you. Or you can outsource the meal, entirely. with their smoked meat selection and delicious sides. We've been known to have their showstopping beef brisket delivered right to our doorstep for dinner parties (they even have a small 1.2 kg portion for small groups of 5-6 people). We lay it out with all the fix-ins on a massive wooden cutting board: buns, your preferred sauces or one from Carnistore, caramelized onions, sautéed mushrooms, cheese, a blow-torch to melt the cheese if you want to get really fancy—and let guests make the festive brisket sandwich they wished Santa would gift them.
Pro tip: If you've got vegetarian friends in the party, Carnistore offers some veggie-friendly sides. Personally, we like to layer up a mushroom and spinach lasagna in advance, even a day before, and leave it in the fridge. We pop it in the oven an hour before dinner and voilà, everyone feels the festive love.
2. MOONEH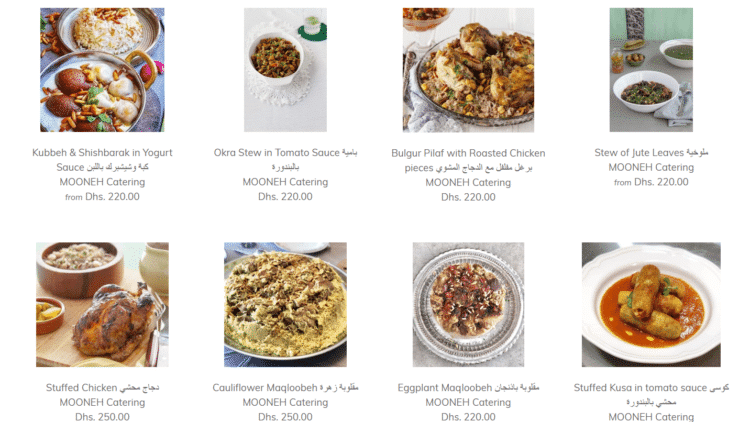 This is the place to call if you've got an Arabian Nights style feast on the cards. Mooneh is the brainchild of Dima Sharif, the author of Plated Heirlooms and trusted culinary authority on all things Palestinian and broader Middle Eastern. You can mix and match her jams, savory preserves (her chilli 'shatta' is a best-seller), cheeses (including goat's milk cheese), fresh ka'ak bread and banana chocolate chip cake for a low-key but delicious DIY brunch spread (incidentally, they make for excellent gift hampers too). Or go with a more luxurious family feast featuring treats like kafta in tahina sauce, shish barak (Arabic style ravioli of sorts) and Palestinian musakhan (roast chicken with caramelized onions and sumac). You can even stock your freezer with frozen versions of Dima's homemade goods and prepare them as you go if you're entertaining guests across multiple days. The ingredients are often sourced from local farms and taste so homemade that we won't judge you for passing them off as your own painstaking creations!
3. KIBSONS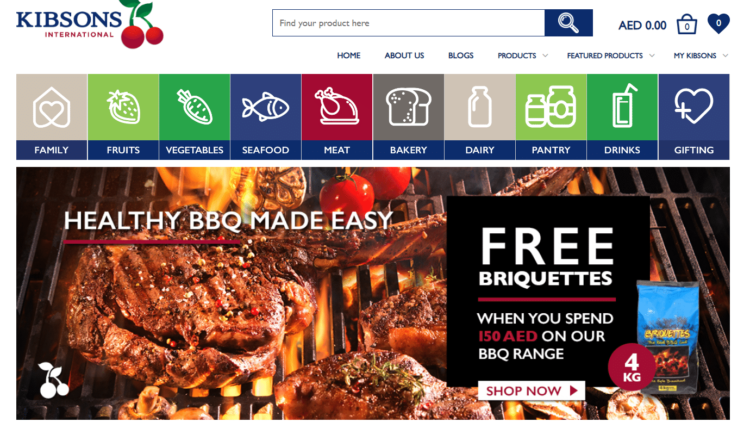 Kibson's has saved us on many a frantic week when we don't have time to lug groceries back from the store (okay we lie—busy or lazy, some of us on the team only do online grocery shopping these days.) Their spice-rubbed spatchcock chickens make for a cost-effective and low-key main course that still looks like you've wielded some serious knife and oven skills. Just unwrap the chickens and pop them into a pre-heated oven for about 200 degrees Celsius for 40 minutes* or until the juices run clear when you poke the thickest part of the chicken near the thigh. We love doing this in a cast-iron skillet or if you've got multiple chickens, in a sheet pan over a bed of root veggies because all the pan juices from the chicken baste the veggies underneath. Save yourself the dishes and serve it as is, in the baking skillet/pan, for a more 'rustic' look.
Pro tip #1: Since the oven is already running, slice a whole head of garlic, papery peels on, and drizzle the cut edges with olive oil, salt and freshly ground pepper. Wrap in an aluminium foil and let it roast until the garlic has caramelized and melted to a paste (be careful to not overcook and burn it!). Once cool, you can unwrap the garlic head and squeeze the paste out of the peel and serve it as a side spread along with grated Parmesan cheese and fresh crusty bread.
Pro tip #2: If you're blessed with leftovers, debone and shred it up the next day. Toss the shreds with a tiny dollop of mayo, Greek yogurt, sumac, smoked paprika, crushed pepper, salt, herbs of your choice, cranberries or pomegranate seeds, diced green apples and diced celery for a creamy chicken salad. Don't ask us for measurements, chicken salad is your canvas for creativity. Heap over soft buns with a melted aged cheddar (we grate Wyke Farms mature cheddar straight over a pan, let it melt and then cool into a crisp cheesy sheet that pairs perfectly with the creamy salad).
(* credits to Dalia Dogmoch for the cooking temp/time)
4. USHI'S CAMEL FARM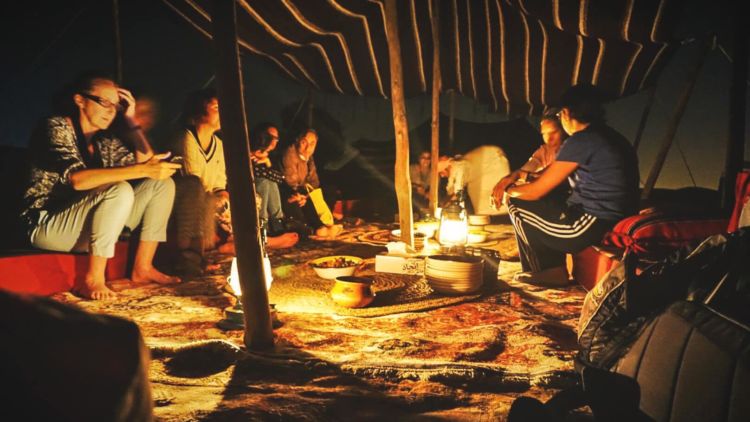 We first visited Uschi's camel farm 5 years ago—and we still can't get over the incredible feast she prepared for us out in the desert. Ursula Musch is the unbelievable story of a German tourist who visited Dubai in the 80's, fell in love with camels and decided to become a camel herder (in an entirely Arab male-run world of camel herding!)
Uschi is a character to contend with. She is fantastic force, rearing camels by day, offering guests camel rides by late afternoon, and then serving them dishes like goat cooked underground, camel meatballs, Emirati margooga(dumplings in spiced broth) and more. You can lounge around in her simple but cozy camp or watch her create magic in her outdoor kitchen. This option doesn't involve any cooking or even hosting, all you need to do is make the booking, discuss the menu with Uschi and share the google pin with your guests so everyone can drive over to Uschi's desert farm. The guests we took five years ago still remember the experience fondly to this very day.
5. EMIRATES BIO FARM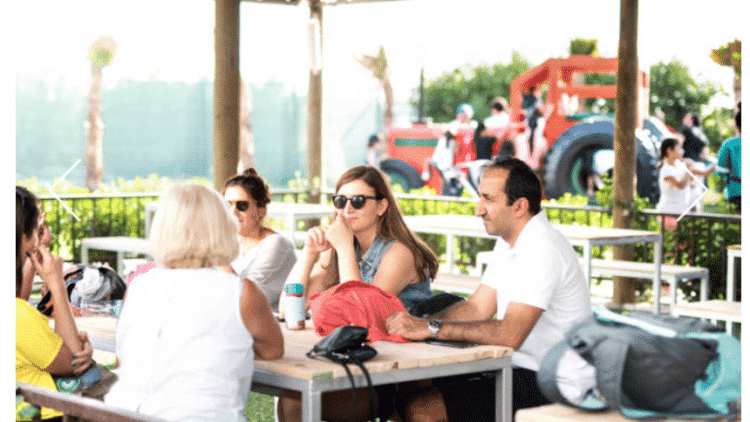 Another fully outsourced option—if you're up for an outdoor daytime experience that's away from the hustle of the city—is at Emirates Bio Farm. We recently collaborated with them to curate a Medieval meal using seasonal produce. The afternoon began with a fun farm tour (so refreshing to be near vibrant green rather than grey concrete!) where we foraged for our own veggies and concluded with a glorious lamb cooked underground with apples and seasonal produce. Reach out to them for a farm-to-table feast at sunset if you've got over 20 guests to entertain, especially if that includes little children who're up for cuddling cute goats.
6. FRYING PAN FOOD TOUR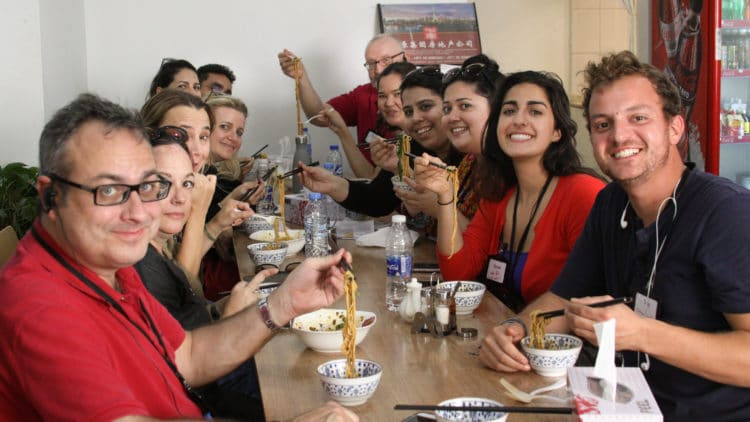 You knew this was coming! ????
We serve a number of residents and their guests over the festive season on private food tours. Spend quality time with your guests rather than behind the stove and leave it to us to do what we do best—restaurant hopping, feeding your group, storytelling and entertaining!