These are the 9 foods in Dubai that are "muscle memory" for tastebuds that have grown up here.
When someone asks me to give them a list of food in Dubai they have to try, these are the nine nibbles I'd go with (in no particular order). They're not the most unusual or off-the-beaten-path—but they are the foods in Dubai that many of us who grew up here associate most strongly with the city. And they're the things we crave most when we're away from Dubai for too long.
1. OLD SCHOOL SHAWARMA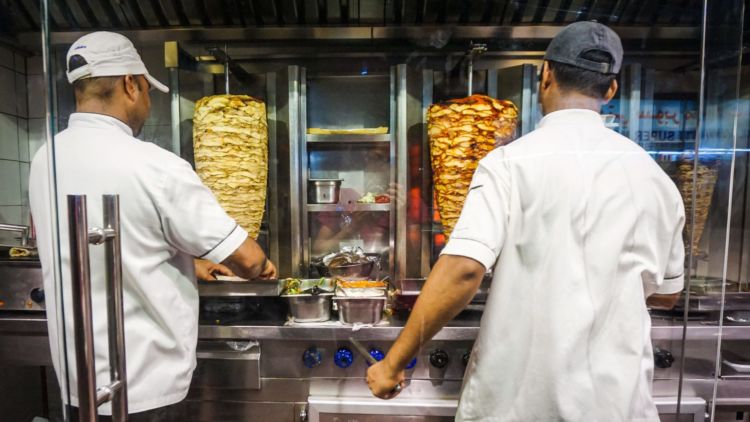 It's no coincidence that shawarma is at the top of this list of food in Dubai you've got to try. Everyone has an opinion on this popular street food!
Finding shawarma in the city is not rocket science, but finding ones that live up to the high standards of an old time resident is. Some of the top choices include Aroos Damascus in Deira (their beef shawarma was chosen by the jury during our #Sufrataste battle), Al Mallah in Dhiyafah (which has both its lovers and haters) and the side-by-side contenders on Baniyas road, Hatam Al Tai and Shiraz Nights (Shiraz's spicy chicken shawarma wins out against Hatam in my books). If you want to sample chicken shawarma that comes as close as it gets to my childhood memories, with a generous helping of well-marinated chicken and a hefty splash of garlic aioli or towm, I'd suggest grabbing a spot on our Middle Eastern Food Pilgrimage.
PS. If you'd like to get in on the shawarma snobbery in this town, check out my article for our national weekend magazine.
2. MIND BLOWING HUMMUS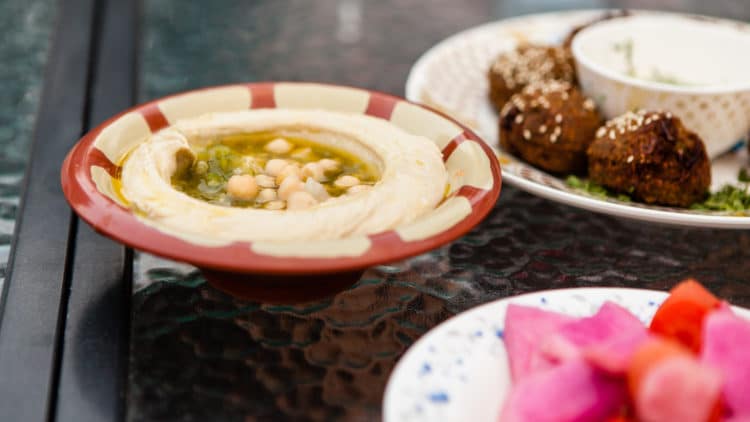 If you visit or live in Dubai, you should tolerate nothing less than an exceptionally good hummus laced with the right amount of tahini and olive oil. One of the biggest mistakes people make is to order hummus at any restaurant, regardless of what cuisine it specializes in. DON'T DO IT. Leave good hummus to the Lebanese, Palestinians, Jordanians and Syrians. Aroos Damascus in Deira does a worthy Hummus Beiruti with tons of parsley, as do most branches of the chain restaurants Al Hallab and Safadi. My favourite hummus (and falafel) stop is on our Middle Eastern Food Pilgrimage route—this Palestinian-Jordanian gem churns out a wildly creamy hummus and drizzles it with a vibrant salsa-like concoction of lemon juice, garlic and green peppers. Delicious.
3. DATE SYRUP AKA DIBS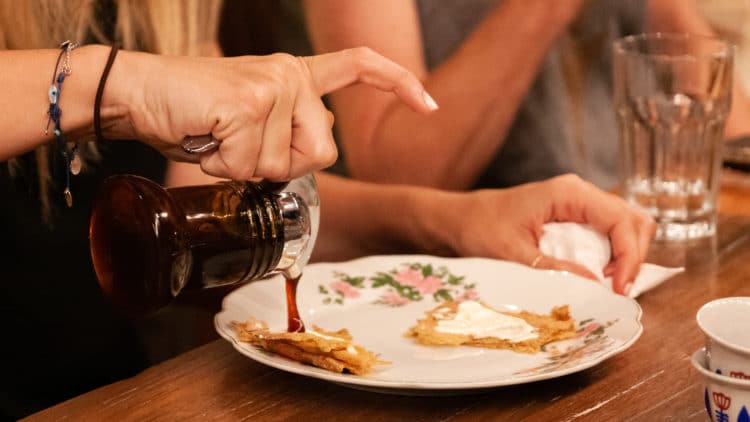 Find any excuse you can to douse something, anything, even if it's your bare finger, with a jar of thick molasses-like date syrup. Dibs is an important sweetener in Emirati cuisine. You'll often find it at breakfast with chebaab(pancakes), luqaimat (dangerously irresistible sweet fritters) and muhalla(sweet crêpes). The classic flavour pairing with dibs is good old Kraft cream cheese—terribly processed and salty I'm aware, but the combination is addictive. We let you trickle as much dibs as you can handle on both our Souks and Creekside Food Walk as well as our Food Tour on Wheels.
4. ANDA PAROTTA ROLL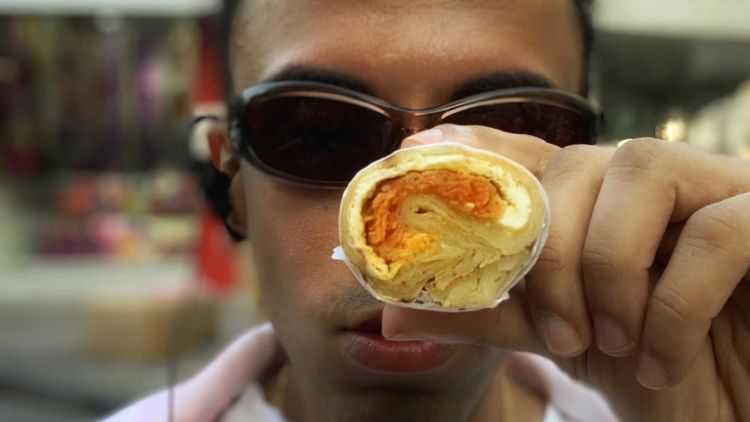 Nothing in the city can beat how much flavor you get on the dirham from one of these humble breakfasts available at most street side cafeterias across the city, especially in the older parts of town. Often prepared by cooks who hail from Kerala in India, Anda Parotta is an egg (anda) omelet wrapped up in a parotta, a white flour flatbread that has flaky layers, chewy elasticity and the perfect touch of street-style grease. My go-to spot is featured on our Souks and Creekside Food Walk, where we get a version of anda parotta the way children of the 80s love—with a smear of cream cheese, vinegary hot sauce (aka daqoos) and crushed chips. Yep, you read that right—crushed chips, and not any chips, but the papery crisp chilli potato chips from the iconic blue and red Chip Oman packet.
5. KARAK CHAI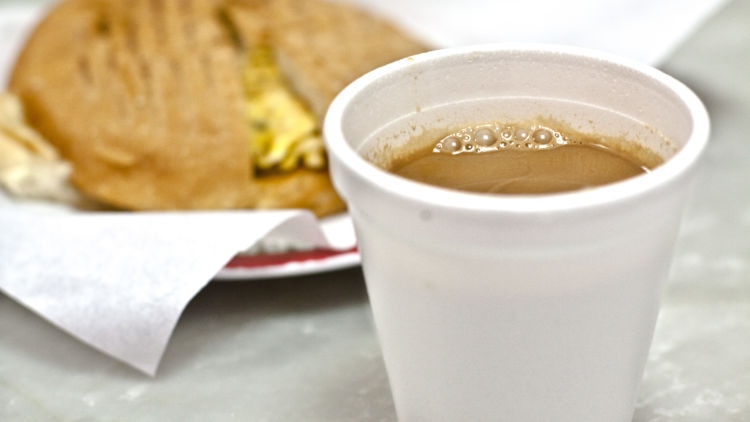 If I'm sporting an anda parotta roll in one hand, the laws of the universe demand that I'd have a Styrofoam cup of karak chai in the other. Karak chai, colloquially called just Karak, might as well be our national drink. This Indian-style tea is brewed with black tea leaves, cardamom pods, evaporated milk and an artery-busting level of sugar. Locals will usually just drive up to a cafeteria, honk and have a Styrofoam cup of the drink brought to their car window for nothing more than pocket change. If you dare ask for a sugarless version, get prepared to be inflicted with a cup of hot water and an insipid tea bag.
Hot tip— typically I'd pay about 1 to 2 dirhams, depending on whether I get mine with saffron (I usually do). If you're paying more than 5 dirhams for a cup of karak chai, you're paying too much. No matter if someone tries to convince you that the cup they're selling is dusted with Dubaiesque gold, nothing beats the cheap fuss-free cup on the street.
6. INDIAN FOOD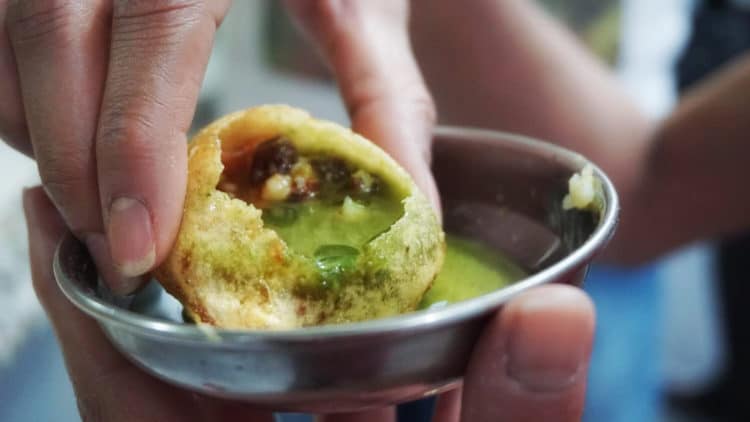 The Indian diaspora in the UAE is the largest in the world (according to the 2017 World Migration Report), making it an explosively delicious minefield of Indian food from all parts of the country. In fact, Indian food in Dubai is so extensive, especially in the neighborhoods of Karama and Bur Dubai, that I'd beg you to not settle for the same old butter chicken, saag paneer and garlic naan. Instead, go regional and enjoy specialties like appams and stew from Kerala (which we feature on our Food Tour on Wheels), Goan seafood at Eric's, Gujarati/Rajasthani thaali at Maharaja Bhog, Rajasthani daal bhaati churma at Manvaar and Madras style dosa and sambaar at Woodlands. But my all-time favourite Indian fix is chaat or street food, exactly the tempting stuff you're better off seeing but not touching when you're in India. Dubai does a fantastic (and hygienic) line up of Indian street food like pani puri, paper-thin spheres of dough wobbly with potatoes or sprouts, sweet chutney and spicy water. Locals each have their preferred spots—you'll get to try one of our go-to spots on our Little India tour.
7. KEBABS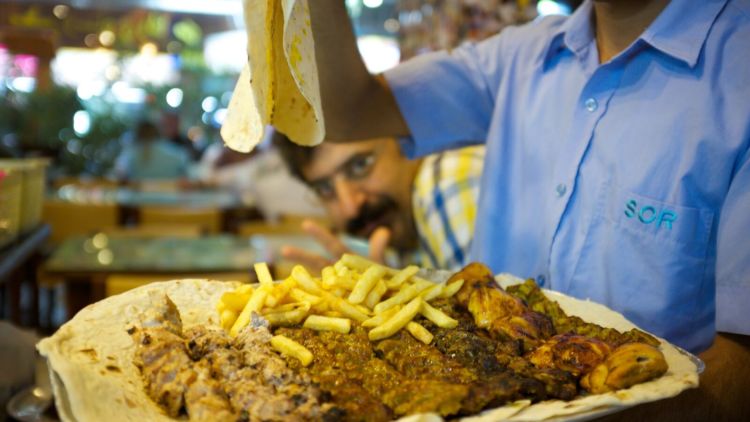 There are so many different cultures that skewer kebabs in the city that I'm conflicted about which ones you absolutely MUST try. The kebab khoush khash at Levantine restaurants like Al Hallab and Aroos Damascusalways makes it to my table because skewered minced lamb floating in a warm spiced tomato gravy is a culinary no-brainer. If you're looking for something slightly more upscale yet not uptight, Turkish restaurants like Kaftan really know their meat and offer some tempting variations with creamy yogurt or baked dough. Similar to Turkish, Iraqi restaurants tend to be pricier but grill up some of the most decadent kebabs with rich fat from fatty lamb tails (yes, lamb tail fat or liyya is a real ingredient of historical importance. Ask us about it on any of our tours!) Another firm favourite are Pakistani-style Bihari kebabs, which if done right, will melt like butter as you scoop them up with your naan. Some of my favourite ones are at a super tiny and out-of-the-way spot called Desi Adda in Qusais—though if you didn't have a reason to be in this area already, I probably wouldn't recommend trekking through the traffic to get there.
But if I had to pick just one type of kebab, it would undoubtedly be Iranian ones. We visit one of the oldest family-run kebab joints from the 70's in Bur Dubai, Special Ustad, on our Dubai Souks and Creekside Food Walk. Many old timers in the city will tell you that your trip is incomplete unless you've paid homage to 'Ustadi.'
8. ZA'ATAR AND CHEESE ANYTHING
Za'atar is a Levantine blend of thyme, sesame seeds, sour ground sumac berries and salt. Pair it with salty cheese, high quality olive oil and some form of fresh bread/pizza, and you'll be addicted for life. I've been guilty of subsisting for an entire day, maybe two, on za'atar and cheese mana'eesh(Levantine pizza) from the bakery across my apartment. And now that we're on the topic of mana'eesh, if you're going to get a za'atar and cheese one, you must know that there are other compelling combinations out there like minced lamb and pomegranate molasses, spicy red pepper and walnut muhammara and cheese (try the one at Al Mallah), spicy sujuk sausage and melty kashkaval cheese, or creamy labneh and apricot jam. But I digress.
Getting back to za'atar and cheese, some (not all) of the Afghani bakers scattered across unassuming corners of Old Dubai make delicious elongated pockets of za'atar and explosively gooey cream cheese (think along the lines of La Vache Qui Rit) for a pittance. The key is in using a fragrant, flavourful za'atar and that's sadly where many bakeries lose the plot. One of the newer entrants on the scene, Mama'eesh is a homegrown chain of bakeries where I've had a memorable Palestinian za'atar and cheese manousheh (their nabulsi cheese fatayer and chili minced meat and cheese fatayer are also spot on)—so memorable in fact, that we ended up featuring it on our podcast.
9. KNAFEH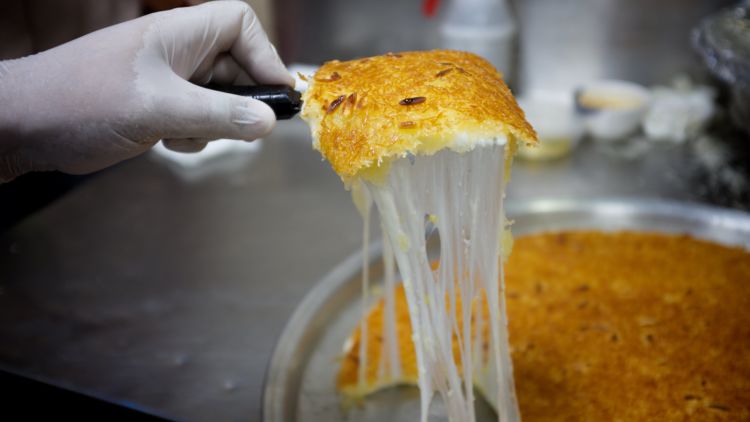 I'm not one for desserts, but fresh warm cheese Knafeh (or Kunafa) is the exception to my rule. Knafeh is a melted cheese pie topped with either kataifi noodles for a crunchy crust or pulverized dough for a softer crumb. Oh, and buckets of sugar syrup.
While nearly every Arabic restaurant and bakery serves knafeh, many old timers will swear by Firas Sweets which first opened in 1993 and has since expanded to multiple branches around the country. Many Turkish restaurants serve knafeh as well—but nothing beats the original Palestinian Knafeh Nabulsiye (other than a fresh Palestinian Knafeh Nabulsiye right out of the pan. That fantasy of watching it being made from scratch in the kitchen and sampling it fresh, hot and gooey from the pan is realized on our Middle Eastern Food Pilgrimage. We've had guests reminisce about it years after they've done the tour).