Get the scoop on Filipino halo halo, Thai stir-fried ice cream and Arabic booza.
While every season is ice cream season, summer gives us more of an excuse to go out and experiment with different frozen treats from around the region. Dubai scoops out an incredible range of ethnic ice creams, so we assigned our Eating Designer Mufaddal Husein (@mufaddal.husein) and food tour guide Nahla Tabbaa (@nahlatabbaa) to order in their favourites. Tune in to our podcast using the player below to learn about Filipino halo halo, Thai stir-fried ice cream and Arabic booza.
Can't see the player? Click here!
FILIPINO HALO HALO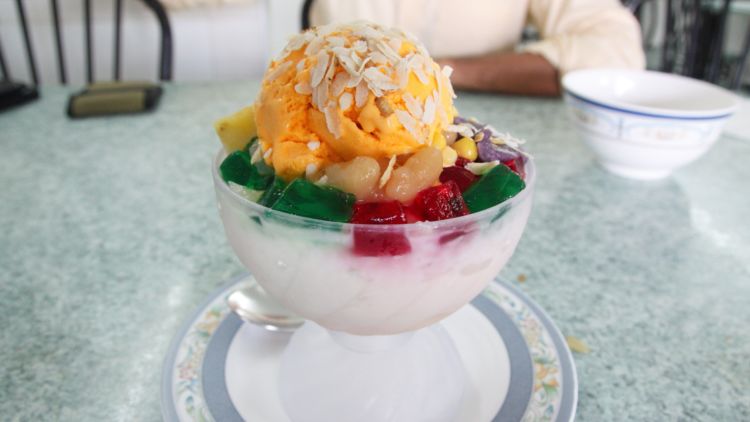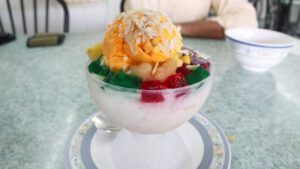 Food tour guide Nahla describes this eccentric sweet-savory Filipino shaved ice and ice cream dessert as a 'cartoon character!' It's got everything from condensed milk and beans to creamed corn and shredded cheese. Yes, shredded cheese. She ordered hers from a popular fast-food chain called Chow King, but the one in the photograph above is from a spot called Bulwagang in Karama (055-183-0598, google pin).
THAI STIR-FRIED ICE CREAM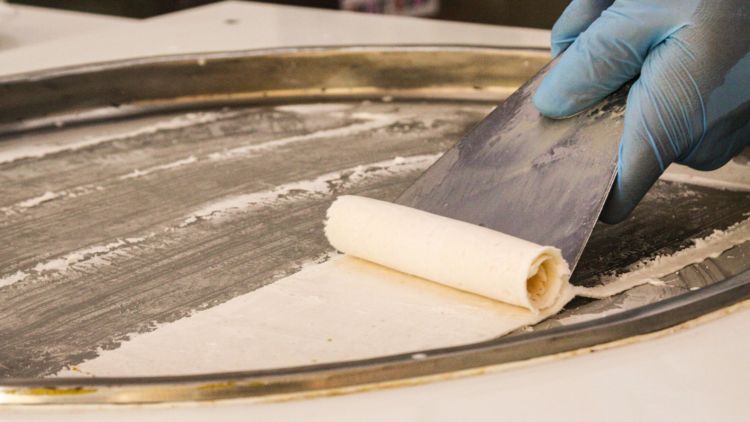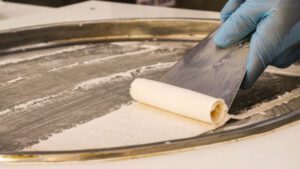 Thai stir-fried ice cream is a new trend that has become quite the frozen sensation around the world. Tune in to the podcast above to learn about how it's made and our Eating Designer Mufaddal's favourite flavour at 51 Rainbow in Karama (04-348-5584, google pin.)
ARABIC BOOZA

This stretchy ice cream is made using a base of milk, sugar and sahlab, which is a tuber of a type of orchid flower that grows in Turkey. Sahlab helps to thicken the ice cream and gives it a unique stretchy 'playdough' quality once the ice cream maker theatrically pounds the mixture in a frozen cylinder. A similar ice cream called dondurma is made in Turkey and saffron-infused bastani in Iran (though far less stretchy). Farooj Al Shami on Rigga Road in Deira (04-299-9340, google pin) serves this ice cream  (call before you go to make sure it's in stock because the ice cream is not prepared on site but brought in from a different location). We also love the saffron bastani at Sadaf Iranian Sweets on Maktoum Road (04-229-7000, google pin).
PS. The booza spot in JLT that Nahla referred to on the podcast was Bouzet Jeddo, a Beirut-born ice cream concept from the 1960's that's run by the grand daughters of the founding jeddo (grandfather). While you can't watch them make traditional 'pounded' booza at the shop, they do offer two flavours infused with sahlab—one with mastic (pine-like resin) and the other with ashta (clotted cream) and pistachios.
MORE FROZEN INSPIRATION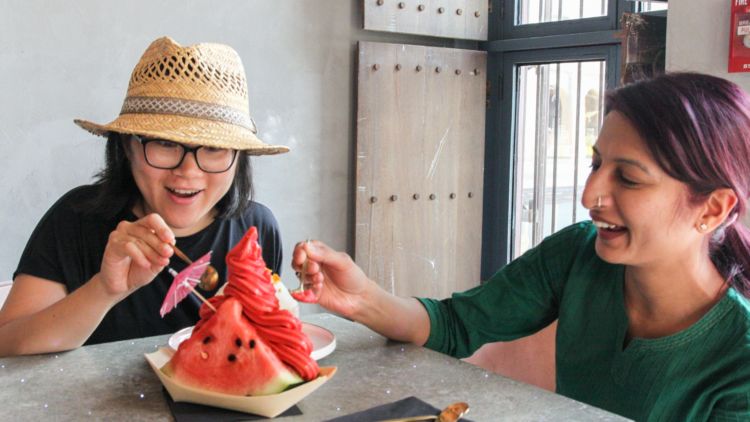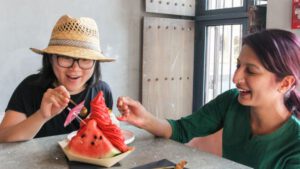 One of our most successful limited edition tours was, not surprisingly, an ice-creamathon featuring 6 delicious and unusual scoops across Dubai. We compiled a special guidebook with the locations of all the places featured as well as a few additional spots thrown in for those who're screaming for more ice cream. Find the guidebook here.
---
 Not a fan of audio? Here's the show transcript for you to read!
3 Ice creams to try this summer:
Arva: This show is brought to you by Dubai's most gluttonous food tour company, Frying Pan Adventures, and you're listening to Deep Fried.
Hey there! I am your host Arva Ahmed, and thanks for joining me on the show that's inspired by flavors of the East. This podcast serves up the foods and stories that we at Frying Pan Adventures love sharing on our walking food tours through Old Dubai.
So, this episode is about three ice creams from the East that you've got to try, cause you better believe it, summer's here. But let's be honest, ice cream doesn't really need a season, but summer gives people more of a reason, more of that itch to go out and get a scoop.
So we handed two folks in our team at Frying Pan Adventures the coolest assignment ever, no pun intended. It was to order-in their favorite frozen fix from the streets of Dubai, to think of how best to describe those flavors and then report back on the podcast.
Turns out the two of them did one better. They held a virtual ice cream date and they recorded it and that is just what I am going to play for you because ice cream is one of those foods that makes you most eloquent while you're eating it. Not while you are staring at two other hungry faces over Zoom and waffling about for words to describe the scoop that's not in front of you.
So here it goes, you're going to be hearing the slurpy voices of our intrepid eating designer and human encyclopedia Mufaddal Husein and the wickedly talented food tour guide and artist Nahla Tabbaa.
Mufaddal: Hey Nahla.
Nahla: Hey Mufaddal.
Mufaddal: Hi!
Nahla: Alright! Hey Mufaddal, it's fun to be doing this over Zoom. I wish we could be out on the streets trying this in real life.
Mufaddal: Oh yeah, but I guess something's better than nothing. At least we are getting the ice cream. I wish, I wish we were out doing a tour and we were trying these ice creams on the tour. That would have been so amazing.
Nahla: I know, totally.
Mufaddal: I have to say this sounds like one of the fun-est assignments that I've gotten—eat ice cream and record.
Nahla: I know, seriously, except mine right now is like digging through a coal mine. I stuck it in the freezer and now it's just quite cold. It's still delicious though.
Mufaddal: What are you having Nahla?
Nahla: Yeah, so I'm going to tell you about mine. I ordered ice cream, a halo halo to be more specific from Chowking.
Mufaddal: Halo halo…
1. Nahla's Filipino Halo Halo
Nahla: Yeah, halo halo is a Filipino ice cream. Different variations of it across the islands, but like, If you think of that Japanese shaved ice that we had once at 1004 Gourmet, what is it called?
Mufaddal: The kakigori.
Nahla: The kakigori, exactly.
So think of that shaved ice that's then flavored, except honestly, I'm looking at this bowl right now, it looks like a cartoon character. It looks like the birthday cake I never had, to be fair. Okay, so…
Mufaddal: Wow, okay!
Nahla: …you have this shaved ice at the bottom. You're supposed to pour the evaporated or condensed milk on top, so that's step one. And then you're supposed to technically kind of dig in and mix up all those flavors together. But if I'm going to take it apart for you…
Mufaddal: Oh yeah, please.
Nahla: …you have a surreal medley of things, honestly. This is like surrealist art.
You have, okay, fine, the more familiar would be a purple yam ice cream. It has this gorgeous deep purple, there's purple yam paste…
Mufaddal: Sorry, what? A purple yam?
Nahla: Yeah, so like, Ube, which is very, very traditional in Filipino desserts.
Mufaddal: Oh yeah, Ube.
Nahla: Okay, so you have that. You could opt, I didn't see this option, but Arva has mentioned this before, Selecta cheese ice cream can also be added to that if you wanted it, but that's a separate conversation altogether.
Mufaddal: Yeah.
Nahla: You, then have these different jellies, okay, so you have this kind of chopped green gelatinous jelly. You have beans.
Mufaddal: I think it's a pandan.
Nahla: Yeah, it's like pandan jelly. You have beans in a syrup. So literally whiteish beans in this yellow syrup.
Mufaddal: Okay.
Nahla: You have different parts of the coconut that are very gelatinous, very tender. So you have nata de coco and macapuno.
Mufaddal: Oh, yeah, macapuno are these genetically, they're mutant coconut actually.
Nahla: Exactly, exactly. It's like a mutant coconut. So you have like an alien coconut in there and you will see jars of both these items, oh, and bananas and syrup as well, in any Philippine supermarket or an Asian supermarket, they will probably be there. Okay.
Mufaddal: So do you have bananas and syrup in your halo halo?
Nahla: So there's no bananas in this one, but if I went for the Fiesta version, I would have gotten the bananas. I'm not regretful though. I'm still okay with this.
Okay, this is where it gets tricky. So…
Mufaddal: The beans weren't the tricky part?
Nahla: No, and I'm totally cool with the beans being in there. I love the texture that they add. I love the earthiness that they add.
Creamed corn.
Mufaddal: Wha…
Nahla: You know that can that you open up to put in your chicken soup, creamed corn, cream of corn? Yeah, that's in there too.
Mufaddal: Okay, so corn, beans, purple yam. This is starting to sound like a salad.
Nahla: Yeah, so you ruined it. So the last thing is grated cheese sitting on top of that and you know what?
Mufaddal: Oh, sorry, you mentioned the cheese ice cream?
Nahla: Yes, yes.
Mufaddal: Oh, but grated cheese as well. That's amazing.
Nahla: Yeah, so grated cheese is in there as well. So literally, imagine your most highly processed cheddar cheese, like the kind you would put on a supermarket pizza.
Mufaddal: Or macaroni and cheese?
Nahla: Or a mac and cheese, yeah.
Mufaddal: Yeah, yeah.
Nahla: That's sitting on top of this.
Mufaddal: Wow, okay, that is crazy. That sounds…
Nahla: That's the finale.
Mufaddal: Sounds like a psychedelic, like, yeah, it sounds like someone was doing something else when they made all of this.
Nahla: It is, it's like a trip in a bowl, but I don't know. There's just something so playful, it's so delightful to the eye and really it is all about—I feel the flavors aren't necessarily overpowering.
It's not this overly sweet dessert that you're going to walk away from feeling overwhelmed, especially because most of the base of it is shaved ice, okay, and then you have the scoops of ice cream.
It's really about this power play between the different textures that you have in there and the colors, and then like how you choose to eat it, I guess.
Mufaddal: Yeah, cause you've got the jelly. I think not the jellies aren't very soft, right?
Nahla: Yeah, they have some bite to them.
Mufaddal: Then you've got the beans, you've got the corn and then you've got the ice as well. So yeah, you're talking about a ton of textures all in one bowl. That is crazy.
Nahla: Yep.
Mufaddal: Oh, wow. And where did you get it from?
Nahla: So, I picked this one up from Chowking, which is a very famous fast food joint over here.
Max's is another one that is super famous for their halo halo.
I've also tried La Bodega's one, which is right next to Dampa. So, Dampa where you can have a seafood boodle fight in Deira. What we would traditionally do was go for that boodle fight, dig in and then have dessert right next door and that worked out really well.
Mufaddal: It sounds amazing.
Nahla: Also Fen restaurant in Sharjah. When I was having my farewell gig at Sharjah Arts Foundation, they made me a halo halo cake. That was my parting gift. It was gorgeous.
Mufaddal: That sounds amazing. A halo halo cake. Wow.
So how does it work usually with halo halo? Can you choose, pick and choose what you want? Is it like a Baskin Robbins 31 where you get all of your flavors and you get to choose what goes in or is it a fairly standard thing?
Nahla: It should be, that actually makes it into something really fun and inclusive of the audience, but the way I've seen it so far as, nope, everything goes in it and you cannot spare that cheese.
Mufaddal: Cheese sounds interesting, actually. I think I'd love to try it.
What I've got instead is something…
Arva: Hey guys, I just want to interrupt Nahla and Mufaddal's ice cream date for a quick factoid.
Did you know that Filipino halo halo translates to 'mix-mix' because you're meant to mix everything up together like this whacky, multi-textural slushy?
And my favorite part of this icy mishmash is actually a wobbly piece of leche flan. Maybe Nahla's version didn't have any, but there's usually one coveted, tiny piece hiding somewhere in that halo halo, which is why it's just not a good idea to share this dessert with anyone. Or if you are, just call dibs on the flan before you mix everything up and it gets lost in there.
Alright, with that little tip out of the way, we're going to give it a quick shout out to our generous sponsors, Abela and Co. and right after that, we'll dive back into Mufaddal's ice cream bowl.
Abela is the catering team that's been preparing delicious meals since 1967. They bring over 53 years of food service experience and cater to a diverse range of sectors in the UAE, including corporates, healthcare facilities, hotel staff catering, large industrial companies, educational institutions, and private events. Find them now at www.abelaandco.com
2. Mufaddal's Thai 'Stir-Fried' Ice Cream Rolls
Mufaddal: What I've got instead is something a little bit more from the west from where you are in the Philippines.
I've got a Thai 'stir-fried' ice cream. I picked mine up from the place called 51 Rainbowin Karama. They're actually an Indian brand from the city of Surat in Gujarat. But they've opened up an outlet here.
And what they're doing is they're doing those, have you seen those liquid nitrogen ice creams where you pour your ingredients and you pour liquid nitrogen and you just blend it up? So they do those ice creams and they do these Thai stir-fried ice creams.
Nahla: Okay, is it actually stir-fried? Is that real?
Mufaddal: Well, kind of. When you see it, when you see them making it, it definitely looks like someone's stir-frying the ingredients together.
Because the way you make it, is you have this cold plate, which is cooled to sub-zero temperatures and you pour all of your ingredients onto the plate, and as they're freezing, you quickly work to fold, smash, flatten and fold again, all the ingredients together before flattening them out one last time, cutting it into strips and then rolling those strips up together.
Nahla: Fun!
Mufaddal: So it literally happens, like a stir-fry, in the matter of half a minute you've got whatever flavor you want.
Nahla: Okay, I love that. And I love that analogy as well because it means that the flavors are still the flavors. They're still slightly separated from the ice cream. They're not over-worked into the ice cream base.
Mufaddal: Yeah. And the best thing is that they're not using a very heavy base. They're using just double cream milk. They're not using condensed milk or evaporated milk. They're using just fresh milk.
So the ice cream, as such, has a very light flavor. And you're right all of those fresh fragrances from, for example, fruit or any other ingredients that you're putting in, they're not getting cooked out of the base. Or if you are boiling or cooking the fruit before putting it into a normal ice cream to soften the fruit, here you don't have to do that. It's just using ripe fruit and all of those floral fragrances are becoming a part of the ice cream base.
The one I have today… can you guess my flavor? It's pink. It's got little flecks of red in it. Can you give me a guess?
Nahla: Look, I'm going to guess, because I watched you design the ice cream tour. I want to go with the guava-chili ice cream because I know you way too well Mufaddal.
Mufaddal: Yeah, so I always have to get the guava-chili ice cream at 51 Rainbow.
In fact, Nahla you're not the only one who knows me so well. As soon as I walked into the store, the guy just looked at me and he said, "Sir do you want the guava chili?" And I'm like, "Yes!"
Nahla: That's so cute.
Mufaddal: I was just grinning as soon as he said that, cause he knew exactly what I wanted.
Nahla: How does a chili fare in that? How does it feel?
Mufaddal: It's amazing. The flavor, it just gives you a bit of kick. It gives you a bit of warmth against that cold ice cream and actually, can I tell you what it really reminds me of?
It reminds me of being on the streets in India in the summer and stopping by a fruit seller's cart and just getting a fresh guava cut up and sprinkled with salt and chili.
Nahla: Yeah, okay, amazing. So same as in Thailand, they do that in Bangladesh as well, or like a chaat masala…
Mufaddal: Yeah, exactly.
Nahla: …powder on that.
Mufaddal: And you've got these hits of sweet, spicy, salty. So it's very much like that chaat kind of a flavor where you've got all these sensory buttons being pushed at one time.
I remember taking my father to eat the ice cream the first time and I didn't tell him what it was. I just put the bowl in front of him and he just wanted to enjoy his custard apple ice cream. He was skeptical. He's like, "what is this? Strawberry? It's pink. I don't want strawberry. I don't like strawberry ice cream."
And I'm like, "trust me, you're going to enjoy this."
The look on his face when he had the first spoon, I felt like I was in a MasterCard commercial. It was priceless. Yeah.
Nahla: So cute, that's amazing.
Mufaddal: He totally did a double take and all he could do is stare at me, look at the ice cream and then stare at me back.
Nahla: …and ask for more.
Mufaddal: Yeah, of course. He forgot the custard apple. The custard apple, poor thing, got forgotten by the side.
Nahla: So what other flavors do they have that kind of mixes the savory and sweet.
Mufaddal: I think the other flavor that I really loved over there is their double Melon. It's a mix of muskmelon and watermelon. It reminds me of a sherbet or a milk drink that I had in Bombay. So it totally reminds me of that muskmelon sherbet.
And another thing that I love about this ice cream is that it doesn't matter what flavor they have. You can even invent your own flavors. For example, put anything into this ice cream. They chop up Ferrero Rocher, or Kit Kat bars, they put it in that.
I've even seen online videos where people have gone quite crazy. They've made a Pepsi flavored ice cream. I've seen a French fries ice cream and even a hamburger ice cream. I have no idea how they taste. It sounds a bit too on the edge for me.
Nahla: As soon as I hear things like fish ice cream or hamburger ice cream I just get really, yeah, stressed!
Mufaddal: Well, the oldest form of ice cream we know is actually a fermented sheep or yak's milk or mare's milk, I'm not sure, it's a fermented milk ice cream from Northern China. So the first ice creams weren't actually sweet. They had all these funky flavors in them. Anyway…
Nahla: Yeah, okay, fine.
Mufaddal: I can see I totally put you off this. Let's go back to our safe world of ice creams.
Nahla: No, but okay. I'll go back. Yeah, exactly, the safe world.
3. Arabic Pounded Booza Ice Cream
I really appreciate the kind of methodology, as well. Like, I've seen this being practiced in, I don't know, the last decade, there was this gym in Jordan that had that and was super trendy, just bringing out the slab and watching it and being enticed by the process.
And in parallel to that, it does remind me so much of Arabic ice cream—booza—in the sense that we also take this milk and sugar base, we add sahlab to it, which are the tubers of this orchid that exists in Turkey.
You then put that in this frozen vessel, it almost looks like a tandoor oven, except that it gets frozen, okay. And you just have somebody pounding and pounding this, with a rhythm and there's almost this percussion to the way he's like pounding this ice cream.
He brings it out, it literally looks like playdough. The sahlab makes it so, it forces it to become so malleable, it brings up it's melting point really high.
And then in Global Village, I mean, you probably saw it everywhere you are walking.
Mufaddal: I was going to ask…
Nahla: Yeah, the dondurma guys, messing with kids by giving them the ice cream scoop and then managing to take it out and doing all these theatrics.
Mufaddal: It's so similar, both of these, this Thai ice cream and the Arabic ice cream, they're so much on the performance, right?
I think that's the joy of ice cream, right? It's that playfulness, it's that fun that you can have with it. It's just such an amazing canvas for you to do whatever you want.
Nahla: Absolutely, as long as they don't melt and make a mess, right?
Mufaddal: Oh, so I wanted to ask—the Arabic ice cream, you said that it was dense, so does it take time to melt?
Nahla: It takes time to melt, yeah.
And God, it's really interesting because the way it's presented is in a Swiss-roll type shape. So the cylinder that you would then have to slice, and it's the kind of ice cream where yes, it's cooled, but you would be so satisfied, biting into it, if that makes sense. That's how dense it is, you can bite it, you can chew it.
I would say though, we've been quite conservative with our flavors when it comes to booza, actually. So I've never seen varieties or I've never tasted varieties beyond a mastic flavored one, which is this pine-like scented resin, pistachio, or 'ashta.
Mufaddal: What is 'ashta?
Nahla: So it is like Arabic clotted cream.
Mufaddal: Oh, okay. Yeah, so you would have specks of cream in the ice cream?
Nahla: You know, I'm not entirely sure. That's a good question. I don't think so, but yeah, whenever we would see it at the table, which was quite frequent, it was always like, "No! Not Arabic ice cream. Just hand me the chocolate chip ice cream," you know?
There was always this debate—are you willing to go down that fragrant, nut-studded route with the mastic and all the things you know about Arabic flavors, or do you want to go down the blueberry ice cream, lemon ice cream or chocolate chip ice cream?
Mufaddal: So I've heard of a place in Brooklyn, in New York, which is called 'Booza and Co.' [error: Republic of Booza] and they're doing some crazy flavors with booza.
Nahla: Nice.
Mufaddal: So I hope people over here in the Middle East actually take inspiration from that and bring us new flavors.
Where would you get your booza from?
Nahla: There was a place that I think it was Al Farooj Al Shami on Al Rigga Road, just by our tour. I remember picking up ice cream once from there.
There's a few places that I visited in Sharjah, Syrian supermarkets, where I would pick up my booza from. There's these new upcoming brand that came out where I did taste a few flavors of booza it's in JLT. I need to find the name of it actually, but I know that she has also pushed different flavors out.
So like things like rose ice cream, um, yeah, different ones like that. I'll just need to find out more.
Mufaddal: I have tried a rose flavored ice cream, but I haven't heard of this place in JLT. So I'm going to need you to go to get me that name ASAP.
Nahla: …and we'll give them a taste for sure.
Alright Mufaddal, well, my ice cream is melting, so I want to carry on eating it if that's okay?
Mufaddal: That's perfect. Go ahead, enjoy!
Nahla: Alright, take care. Thank you.
Arva: Hey folks, we are back to the virtual studio, which sadly has no ice cream, but I hope you enjoyed tuning into Nahla and Mufaddal's Ice Cream Assignment.
And we're going to share all the names of the ice creams, the locations, all of that fun stuff on our blog, as well as an online ice cream guidebook from a past ice cream tour that we did at Frying Pan Adventures. Check it all out on our blog at www.fryingpanadventures.com/blog, but you can also find a direct link in our show notes as well.
If you enjoyed the show, please rate, review and share it and chat with us over social that's Frying Pan Adventures on Instagram, Facebook or Frying Pan Tours on Twitter.
You can also hit Nahla and Mufaddal up on Instagram for more ice cream recommendations. We have shared their Instagram handles at @nahlatabbaa and @mufaddal.husein in our show notes.
So as always, I wanted to leave you with an ice cream quote, but there were so many good ones out there. It was like the nerve wracking decision and figuring out which one flavor you're going to have in an ice cream parlor.
But knowing that a lot of us are gonna resort to tons of the good stuff to stay sane this summer, this one by American standup comedian, Brian Regan felt just right
"I think the serving size of ice cream is when you hear the spoon hit the bottom of the container."