Ramadan is a time when communities come together to pray, practice self discipline and break bread across the Muslim world. Many of us within our cultures, and even across cultures, have similar memories of what gets served on our Iftar tables after the sunset call to prayer. On this podcast episode of Deep Fried, we reminisce about foods we've grown up eating at Iftar.  Joining us at our virtual dining table are our food guide Nahla (@nahlatabbaa), our Eating Designer Mufaddal (@mufaddal.husein) and a very special guest speaker, Mo Abedin. Mo is the Emirati-Thai creative genius who, along with his mother, is behind the incredibly popular Thai restaurant, Sticky Rice.
We've also shared the recipes for some of the foods shared over the podcast below.
Instagram handles: Frying Pan Adventures (@fryingpanadventures), Mo Abedin (@moabedin), Nahla (@nahlatabaa), Mufaddal (@mufaddal.husein).
Click the player below to tune in. Can't see the player? Click here!
1. DAHI VADA (YOGHURT FRITTERS)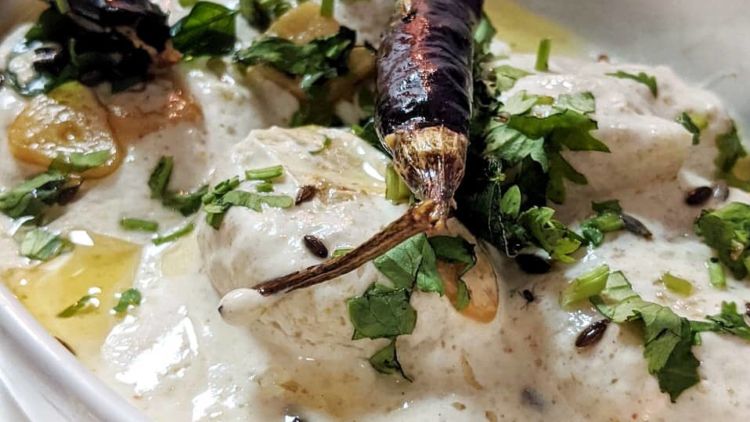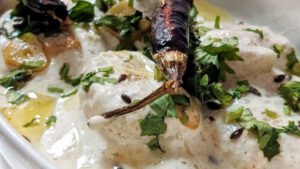 Mandatory Ingredients
For Fritters
1 cup urad dal (split black gram or white lentils)
1 cup chana dal (split Bengal gram)
1 small carton of Laban or buttermilk
Salt to taste
1 tbsp neutral oil
1 inch piece of ginger cut into large pieces
1-2 green chilli cut into large pieces
For Yoghurt Dressing:
1 kg yoghurt
1 tsp sugar
1/4 tsp salt
Method:
Wash and soak the urad dal and chana dal for 6-8 hours in double their volume of water.
Discard the soaking water and grind the lentils in a blender with just enough water to keep the lentils moving.
Add the ginger, green chillies, tablespoon of oil and salt and blend further to get a thick batter.
Adjust with a little water if required to get a pouring consistency.
Empty into a mixing bowl and beat rapidly with a spoon for 2 minutes to incorporate air. Then deep fry the fritters with 1 tbsp- 2 tbsp of batter at a time (depending on the size of fritters you prefer).
Dilute the laban or buttermilk with ice or cold water in a sufficiently large vessel. Soak the deep-fried fritters in the cold buttermilk and wait until they sink (20-30 mins). Remove the fritters and press them lightly to expel any excess liquid.
Add the salt and sugar to the yoghurt and whisk to remove lumps.
Place vadas in a serving plate and cover them with yoghurt completely (about 2 tbsp of yoghurt to each fritter).
Garnish by drizzling tamarind chutney and then lightly sprinkling cumin powder, red chilli powder, chaat masala (optional) and chopped green coriander leaves.
For tamarind chutney in a pinch, mix together store-bought tamarind paste with date syrup/molasses (dibs tamr) with a pinch each of red chilli powder and coriander seed powder. Adjust the consistency with a bit of water.
Another preferred garnish is with a tempering of mustard seeds, curry leaves and whole dried red chillies. Heat 2-3 tbsp of oil in a small wok or pan till shimmering. Add the mustard seeds first to splutter, followed by the chillies and curry leaves. Stir to fry and remove from the heat before anything burns. Pour over the assembled dahi vada.
Credits: @mufaddal.husein
2. MALPUA (INDIAN SEMOLINA PANCAKES)
Mandatory Ingredients
1 cup coarse semolina
1 cup wholemeal flour (Atta)
3/4 cup sugar
1 egg
Ghee for deep frying
A few saffron strands steeped a tablespoon of warm water (optional)
Instructions
Dissolve the sugar with one and a half glass of warm water in a mixing bowl.
Add the semolina and the flour a little at a time, mixing well to avoid lumps. When you stop mixing the semolina may sink and separate from the water but this is okay since it will absorb the water as it sits.
Let the batter sit for 6 hours or overnight. This allows the semolina to swell ensuring a lacy texture when fried.
Heat ghee to a depth of 1 inch in a heavy flat bottomed pan over medium heat.
Meanwhile, beat an egg with a pinch of salt and mix it well into the batter. (If you are using it add the saffron with its water here.)
Test the temperature of the ghee by dropping in a small knob of the batter. It should sizzle and rise to the top as it fries.
To make the malpuas, pour half a cup of batter into the centre of the pan in a smooth motion. If the batter spreads into an even layer about 2-3mm thick then the consistency is right. Add water to thin the batter or add a bit of flour and mix to thicken it.
As it cooks, the pancake will begin to float off the bottom indicating that its time to flip it. (Do this carefully to avoid splashing the hot ghee.)
Once flipped, check for the lacy texture on the first side this indicates that the batter has soaked well and has the right consistency.
Fry until golden with crisp edges. A lighter colour gives a softer pancake, though be careful not to over-brown as the edges will burn.
Serve with fresh cream, malai or qishta.
Credits: @mufaddal.husein
3. QATAYEF (MIDDLE EASTERN SWEET TURNOVERS)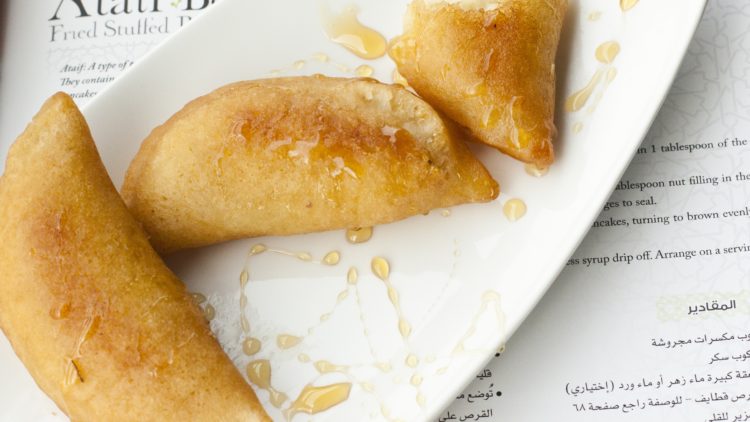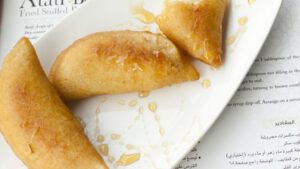 Our guide Nahla Tabbaa shared her mum's secret recipe. There are no precise measurements, eyeball it and pray earnestly that they turn out delicious!
Ingredients:
Pre-made qatayef pancakes, available at most major supermarkets and Arabic bakeries.
Filling:
Nabulsi cheese
Akkawi cheese
Mozzarella cheese
Kiri cheese
Ground walnuts
Chopped pistachios
Cinnamon
Nutmeg
Orange blossom water (use sparingly else it will get bitter!)
Make sure everything is finely chopped. Spoon a small amount into the center of the pancake, fold over, pinch the edges to seal them and then deep fry in oil. Drizzle with sugar syrup that's been infused with rose water.
4. AUNTY DODI'S KEEMA SAMOSA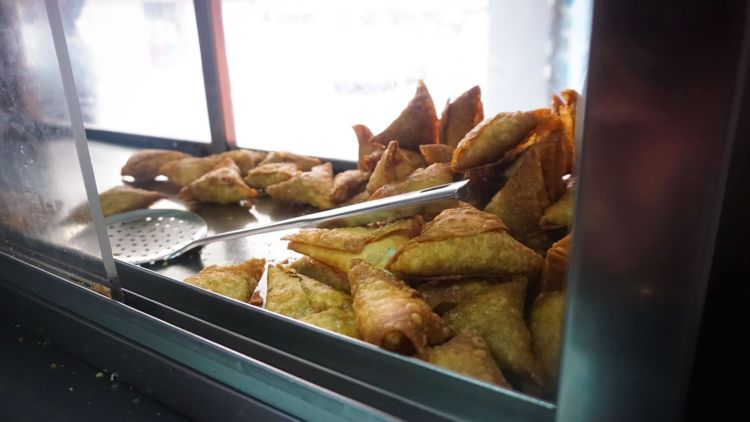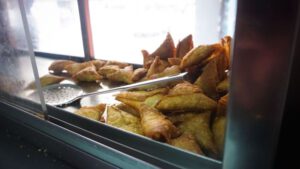 Another of Nahla's "immeasurably" good recipes!
Ingredients:
Samosa pastry (available at most grocery stores)
Ground beef
Spices:
Cinnamon
Coriander (ground spice)
Cardamom powder
Cloves
Cumin
Chilli
Roasted cumin powder
Samosa Paste:
Shatta (hot sauce)
Chopped  parsley
Chopped mint
Green onions
Yoghurt
Ginger
Garlic
Sauté the minced meat with spices and combine with a paste made out of parsley, mint, green onions, yoghurt, ginger, garlic and shatta.
Place it into a samosa shell and fold it into a triangle. Deep fry!
5. WATERMELON SALAD
Ingredients:
Watermelon, chopped
Red onions, chopped
Halloumi cheese
Optional Ingredients:
Mint
Balsamic glaze
Pomegranate seeds
Grill the halloumi cheese. Combine all the ingredients and you're ready for iftar!