We're going on an amazing food tour around Dubai to discover its hidden gems.
Here's what we're looking forward to!
We'll start our journey with traditional Emirati dishes for breakfast at a restaurant located on an archaelogical site in Jumeirah. Then we'll head to Karama where we'll enjoy Indian street food. Finally, we'll finish off with a visit to one of the oldest most loved Arabic spots in Deira for delicious falafels, beef shawarma and creamy hummus.
The Desert Safari – Discovering Local Cuisine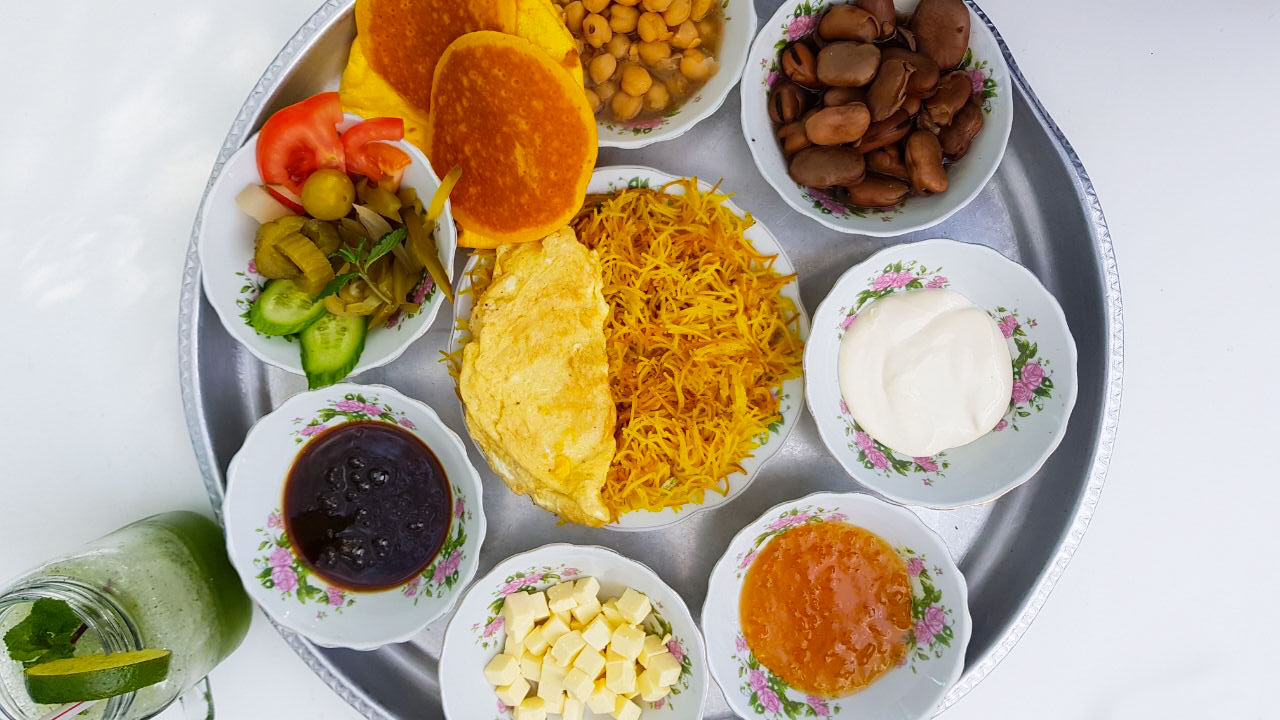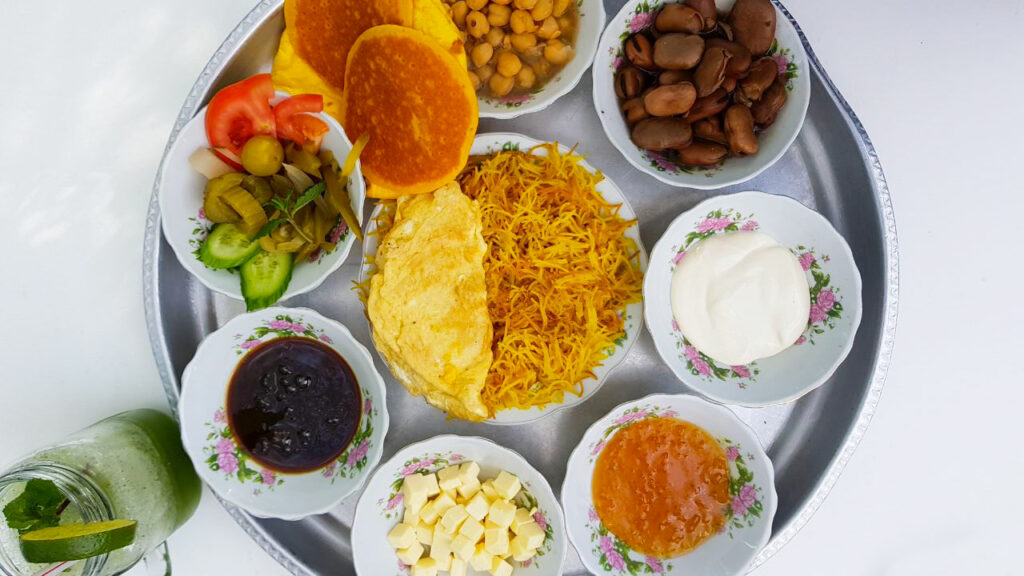 If you've ever wanted to see what life was like in the desert before the discovery of oil. then a trip to Dubai is perfect for you. This city is home to some of the world's most luxurious hotels, but it's also one of the few places where you can still experience traditional souks, food and even enjoy coffee (gahwa in Emirati dialect) in bedouin tents (though no one lives in them anymore!) around town.
Our first stop will make us rewind back in time at the Arabian Tea House. They have a few branches around town but visit the one located on the Jumeirah archaelogical site which dates back to the Abbasid period of Islam in the 9th century AD. You will find many of the dishes prepared in local Emirati homes, likechebab which are Emirati pancakes (try them with cream cheese and sweet date syrup or dibs) and balaleet which are sweetened cardamon and saffron-scented noodles with slivers of savory omelet. We recommend having a little of everything by ordering their Emirati breakfast platter and finishing up with a round of traditional unsweetened gahwa and dates.
Experience a traditional Emirati meal on our Dubai Souks & Creekside Food tour.
The Spice Road – A Taste Of India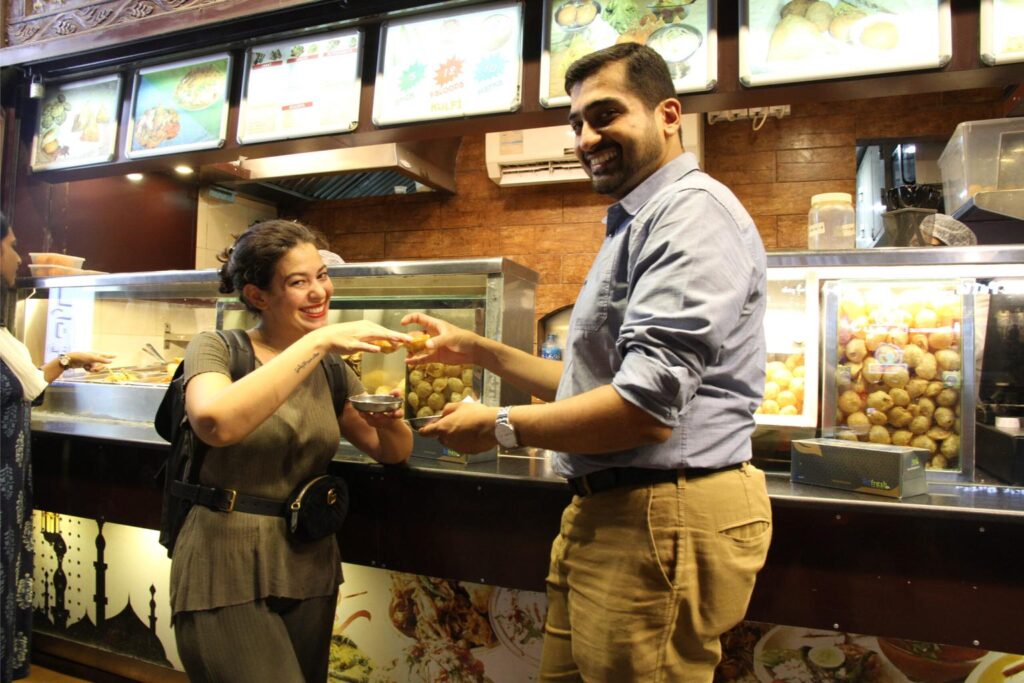 For our next stop. we would drive past the Burj Khalifa, the tallest building in the world and head to a more modest neighbourhood called Karama. Here, we'll try some of the best street foods in town from sweet-spicy pani puri to crunchy bhel at a restaurant called Chaat Bazaar. If you've never had Indian street food before, read our post or listen to our podcast on Indian street food in Dubai right here.
From there, we'll make our way to the Bur Dubai textile souk for a digestive sightseeing stroll. You can take the 1 dirham boat ride in a wooden abra across to the other side, Deira, where you can enjoy the vibrant colors and enticing aromas of the Deira Spice Souk. Make sure to haggle if you plan to buy anything!
Sample the best Indian street food on the Little India on a Plate food tour and on the Dubai Souks & Creekside Food tour.
The Culinary Journey – A Taste Of Arabia
View this post on Instagram

We finish off the tour in a beautiful open-air restaurant located in the souk in Wafi City called Khan Murjan. This restaurant serves the most popular foods from across the Arab region and its ambience is that of an olden day Arabian courtyard. They serve one of the best hummus in town. We also love their Moroccan tangia with exquisitely tender meat, Palestinian musakhan which is a chicken and onion pie seasoned with tart sumac powder, and vegetarian-friendly Egyptian koshari. Discover the best Middle Eastern food in Dubai on our Middle Eastern Food Pilgrimage.
The Best Way to Explore Delicious Dubai
Dubai boasts more than 1,000 restaurants serving everything from traditional Arabic dishes to international cuisine. It's the perfect place to plan a multi-stop food tour, either on your own or let us do the planning for you with our expert guides on our popular food tours.