With more people staying indoors due to COVID-19, many of us are looking for ways to get creative with simple ingredients in the kitchen right now. So we asked 3 of our food tour hosts—Farida (@faridaa), Nahla (@nahlatabbaa) and Stephanie (@everydayfeasts)—to inspire us with ideas for how we can repurpose rice, lentils and onions into a number of different dishes. Click the player below to tune in.
Can't see the player? Click here!
We've also shared recipes for Farida's kichdi, Nahla's mujaddarah, Nahla's mum's mujaddarahsuperfood salad and Stephanie's "anything goes" rice-lentil stew below. If you're looking to have some beautiful nuts and berries (like the sour Persian zereshk berries that Nahla mentioned on the show) delivered to your doorstep, call Mr. Reza's shop (Sadaf Iranian Sweets) at 04-2297000. It's a great way to support a small business in our community!
Subscribe on: Apple Podcast App  |  Spotify (available on AppStore and Google Play) | Stitcher (available on AppStore and Google Play)  |  Google Play Music (currently supported only for listeners in US/Canada) | Anghami
1. FARIDA'S KICHDI
Serves 2 hungry people.
Mandatory Ingredients:
Rice – 1 cup
Masoor dal (red lentils) – 1/2 cup
Water – 1 cup
Red onion – 1 medium size, thinly sliced
Turmeric powder – 1/4 tsp
Salt – 1/2tsp or to taste
Ghee – 1 tbsp
Optional Ingredients:
Cumin seeds – 1 tsp
Fresh ginger – 1 tsp grated
Garlic – 1 clove, thinly sliced
Tomato – 1 chopped
Bay leaf – 1
Method:
Wash the rice and masoor dal separately and then place in a pot with water. Add turmeric and salt. If using ginger, tomato and bay leaf add these in as well. Bring to a boil over high heat until the water has been absorbed. Simmer over low heat until the water has evaporated. You can add more water at the beginning if you want a mushier consistency.In a pan heat ghee over medium heat and then add onions. Let the onions sweat and once they are translucent and have browned slightly, add garlic and cumin seeds. Fry until onions are golden brown and add this mixture to the cooked khichdi. Mix well and serve hot. Best paired with papad and achaar!
2. NAHLA'S MUJADDARAH
Serves 2 hungry people.
Mandatory Ingredients:
Onion – 1 chopped
Garlic – a few cloves
Short grain Egyptian rice  – 1 cup
Puy lentils – 1 cu
Cumin*
Seven spice / baharat*
Vegetable/meat stock*
Crispy fried onions*
Optional Ingredients:
Dill*
Tomato*
Dried lime/loomi*
*Cook's note: We asked Nahla for precise measurements and she replied: How dare you ask me to equate my love and passion into measurements! I just go with my intuition. So go with your gut folks, we trust you.
For Side Salad:
Tomato
Cucumber
Yogurt
Sauté garlic and onions in a pot with olive oil. Rinse lentils and add along with rice and spices to the pot. Essentially you want to coat and toast the mixture in the oil. Add vegetable or meat broth and cook until lentils and rice are soft but still have bite.
Prepare a salad of tomatoes and cucumbers, plate yogurt and add fried onions to the top of the Mujaddarah and enjoy!
3. AUNTY DODI'S MUJADDARAH SUPERFOOD SALAD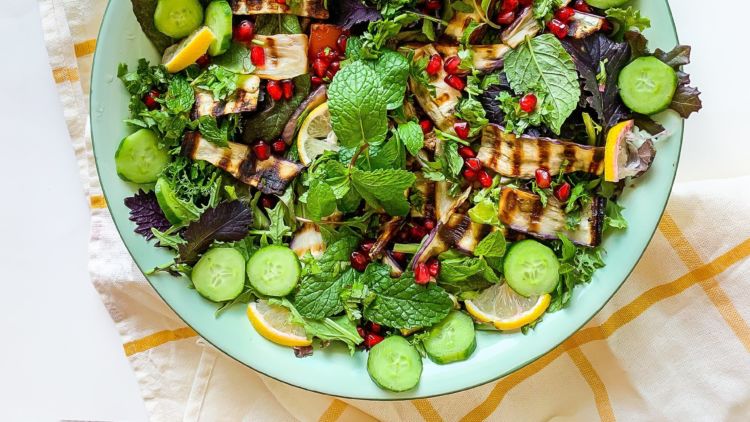 Serves 4 hungry people. Recipe credits to Nahla's mum, the talented Aunty Dodi.
Ingredients:
Leftover mujaddarah – 1 cup (recipe shared above)
Pomegranate seeds – 1 cup
Chopped parsely – 1 cup
Chopped dill (optional) – 1/2 cup
Chopped scallions – 1/4 cup
Chopped mint – 1/2 cup
Cucumbers (any kind) – 3, chopped
Tomatoes (any kind) – 2, diced
Eggplant – Grilled slices
Greens (any work: arugula, kale, spinach) – 1 bunch
Dressing:
Lemon juice – 1/2 cup
Salt and pepper to taste
Pomegranate molasses – 4 tbsp
Olive oil – 4 tbsp
Garnish (optional):
Zereshk berries sautéed in oil/butter
Toasted pine nuts
Crispy fried onions
The idea is to turn your leftovers into a healthy refreshing salad packed with nutrients, but ultimately you can be very flexible about what you put into it. The key flavours are the pomegranates and the dressing—so try not to skip those!
4. STEPH'S "ANYTHING GOES" RICE-LENTIL STEW
By nature of its flexibility, this stew defies measurements or a real recipe. Here's a basic template, but in the wise words of Stephanie who shared this over our podcast: GO WILD!(Steph has included extra exclamation marks through her stew template to inspire your wild side.)
Mandatory Ingredients:
Group A
Olive oil
Garlic, onion, other sturdy veg can be anything like carrot! potato! Celery! Fennel! Even zucchini! Whatever!
Group B
Salt
Aromatics—rosemary, thyme, whatever!
Tomato paste
Group C
Lentils
Rice if you want!
Broth OR water + stock cube
Group D
Soft greens if have (Chard! Spinach! Kale!) or not!
Method:
Put Group A ingredients in a big pot and heat. Sizzle sizzle. Add in Group B. Sizzle some more. Then throw in Group C and cook until everything is tender and liquid has mostly evaporated. Then finish up with Group D (if you have Group D) and cook until wilted.Ladle into bowls, sprinkle with salt and add VERY generous glug of extra virgin olive oil!Eat!